The money raised in the Gonzaga DC Classic support the many service projects of the Gonzaga students and community in the Washington DC area, across the U.S. and in other parts of the world. You can read about the many service projects in this PDF Document
Culture of Service
I really believe that every person is a revelation of God – the joy of God, the love of God.
I feel the human person on the street is the appearance of Jesus Christ, consumed with human needs. Christ is in the wretched person, as well as in the young person, the young woman, or the young child. Their smile is so fresh, like a bud or an open flower that speaks of the wealth of the plant beneath the surface. And that wealth is God.

– Fr. Horace McKenna, SJ (1899-1982)
Community service is immensely important at Gonzaga. Indeed, the school's namesake, St. Aloysius Gonzaga, died while ministering to plague victims in Europe. In the classroom, the chapel, and the community, students are surrounded by models for service and Gonzaga seeks to provide our students with the opportunity to grow in generosity by service to those around them.
The following descriptions include personal reflections written by Gonzaga students on
their experience of service to others locally, nationally, and internationally. Gonzaga students are taught the goal of Ignatian Spirituality – to "find God in all things." Gonzaga students offer their thoughts, insights, and reactions to their encounters with Jesus through their service to others. Gonzaga's service program is firmly rooted in the values of social justice and generosity. The culture of service at Gonzaga is an important part of a student's education at Gonzaga. Indeed, that culture of service to the poor and marginalized helps to transform each Gonzaga student into becoming a "Man for Others."
Sister Seton Talks about Service Projects
Local Service Projects
McKenna Center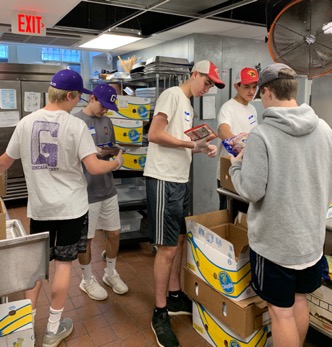 Preparing a meal at the McKenna Center
The McKenna Center is a drop-in center for homeless men that's located in the basement of St. Aloysius Church, right on Gonzaga's campus. The program is named for Fr. Horace McKenna, a Jesuit who lived at Gonzaga. Nearly every day of the school year, students volunteer to provide breakfast and lunch to the homeless served by the McKenna Center. Typically, upperclassmen help out with breakfast, while underclassmen volunteer for lunch shifts, guided by senior leaders. They also serve and support the McKenna center in a variety of other ways throughout each school year.
Unique Residential
Unique Residential is a nursing home next door to Gonzaga on Eye street. Every Tuesday after school, a group of Gonzaga students spends time with the residents there, reading to them, playing games, talking, and building community.
Campus Kitchen
In January 2006, Gonzaga proudly launched the first high school chapter of the Campus Kitchens Project, a national organization dedicated to feeding those in need. Our Campus Kitchen collects unused food from the school cafeteria, local restaurants and businesses and working with DC Central Kitchen and Gonzaga's own McKenna Center, students then use these donations to prepare and deliver meals to elderly and low-income residents in our neighborhood. The program operates year-round during four afternoons each week and is open to all Gonzaga students.
Washington Jesuit Academy
Every week after school, Gonzaga students visit the Washington Jesuit Academy, a Washington middle-school for boys from low income communities in grade 5 through 8, to moderate their chess club, play chess and connect with the boys.
Service Immersion Trips
Apopka, Florida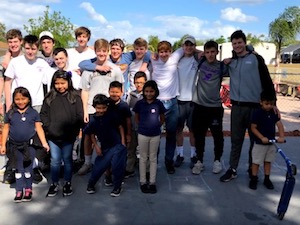 Students and Apopka Families
Each Apopka immersion trip provides a firsthand experience of the present immigration dilemma facing our country led by the Hope CommUnity Center. During spring break of junior year, a group of students travels to the town of Apopka in Central Florida to spend the week living with immigrant families in homestays and working on farms and in nurseries throughout Apopka, FL.
Camden, New Jersey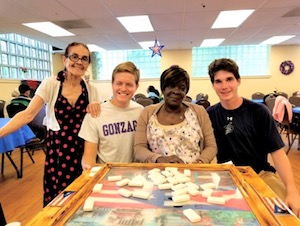 Students and seniors in Camden, NJ
The group spend the week at Camden's Oscar Romero Center & experience urban poverty in new ways by living simply, learning about issues through a Catholic lens, and serving at many of the city's social service agencies. Because students work with a variety of sites, they are able to encounter justice from various angles.
Emmitsburg, Maryland
Each summer, Gonzaga juniors, as rising senior leaders, together with a number of sophmores and freshmen volunteer their time for the poor and elderly while living at the Bellarmine Retreat Center in Emmitsburg, Maryland. The volunteers chop wood, mow lawns and perform general maintenance and landscape work for the disadvantaged citizens in and around the Emmitsburg area.
Red Cloud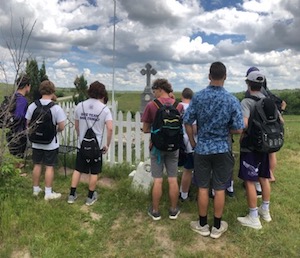 Students pay respects at Red Cloud
Students travel to Pine Ridge, SD and are immersed in the culture of the Lakota tribe. The group learns about life on the reservation while working with the Red Cloud Indian School and assisting nearby families. Students learn the historical, economic, political, and societal barriers that the Lakota people face today.
Kansas City, MO
Rising seniors spend the week at Jerusalem Farm, living simply in a Catholic intentional community. The group learns about urban poverty, sustainable farming, and environmental justice. Participants have the opportunity to work on the farm located in the city, prepare meals, and deliver food to those in need.
US/Mexico Border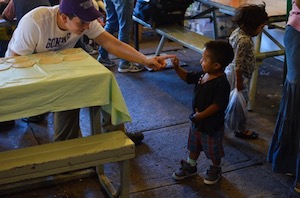 Interacting with migrants in Nogales
Travel to Nogales, AZ & Nogales, Mexico to learn of the realities of immigration. Students work with the Kino Border Initiative, a Jesuit organization seeking to meet the needs of migrants. The group works at the KBI soup kitchen, meet with US Border Patrol, hear a deportation debriefing, & more.
Los Angeles, CA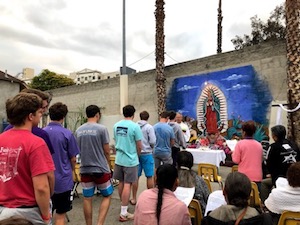 Attending Mass Los Angeles
Rising seniors work alongside Homeboy Industries, founded by Fr. Greg Boyle, SJ, and other ministries that support those living on Skid Row. The group learns about gang violence, incarceration, and urban poverty in the city, as well as spend time with the people of Dolores Mission Parish, where they stay for the week.
Salem, WV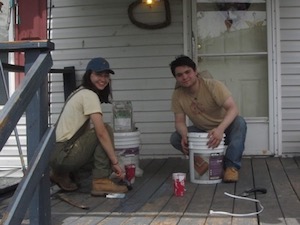 Repairing a porch - Salem, WV
Students partner with Nazareth Farm to live out the pillars of the Gonzaga Outreach program in rural Appalachia. The days consist of home repair and construction, as well as meeting people in the community. There is an intentional focus on simple living & learning about rural poverty through a faith perspective.
Quito, Ecuador
The group work with the Working Boys Center, a Jesuit organization in Quito whose mission is to serve the local children of Quito in preparing for their next steps in life. Students live in a simple community on campus at the Center, work on repair projects in local neighborhoods, and spend time with the children and family of Quito.
McKenna Immersion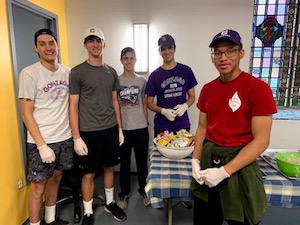 Preparing food at the McKenna Center
The McKenna Immersion is an encounter with urban poverty & run right out of our own McKenna Center; students will sleep on campus for the week. Students will get to know the men at the center, as well as serve at organizations such as SOME, Martha's Table, & DC Central Kitchen. Rising seniors serve as student leaders for underclassmen.